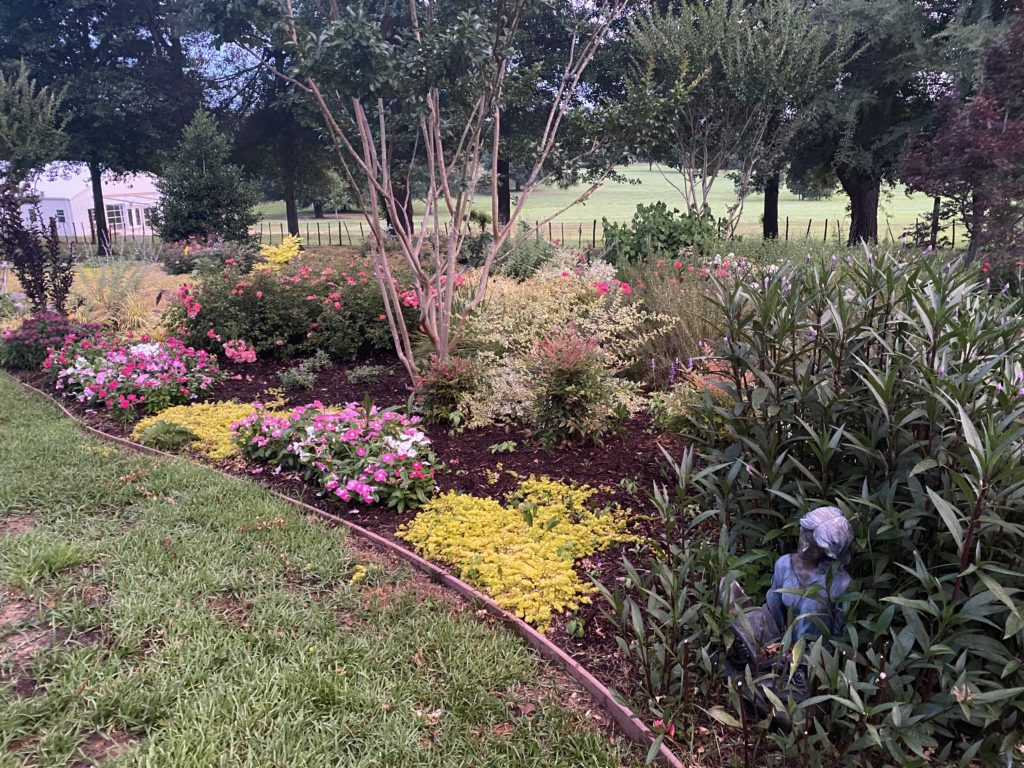 For a garden to be considered beautiful it needs to have several characteristics to make it your
peaceful oasis. As with most things beauty is in the eye of the beholder. I prefer a more natural free
flowing garden that mimics nature. Others will prefer a garden or landscape that is well maintained
with sharp lines and a perfect order. I do not mind if my garden gets a little unruly and is not in perfect
order. Here are some characteristics of how I like to plant my Garden.
o Plants that fit the location. Plants should not have to be trimmed regularly. Typically, I trim a
few of my plants every 2 – 3 months to keep them in shape & looking beautiful. My biggest
chore in maintaining my plants is a Winter cut back after several freezes, about 2 months
before Spring. Some of the plants I cut back are Roses, Crape Myrtles, Perennials, and any
shrub that has grown larger than desired.
o Using a mix of annual color, Perennials, and Evergreens. The combination of these type of
plants will provide color year-round and provide foliage year-round. The annuals (flowers)
will need to be changed 2-3 times a year and placed in the highest viewed areas for curb appeal.
Perennials will provide beautiful color for anywhere from 10 days to 30 days depending on the
plants. Perennials usually must be severely pruned in the Winter. The evergreens provide the
year-round foliage which is a must for Winter. Many Evergreens will also flower in their
Season.
o I like to think of my garden like a painter looks at his palette. I want contrasting colors, –
yellows, shades of purple, reds, pinks, green ect… I want to make sure I have yellow foliage
plants near a dark purple plant and different colors all throughout the garden. I also strive for
contrasts in size. I mix large & small plants throughout the landscape but am careful not to
block a sightline to other interesting plants.
o Part of a beautiful garden is that it must be maintained as easily as possible. Anything worth
having will require some work but less is better. Apply hardwood mulch as often as needed to
keep a minimum of a 1" layer which will control the weeds and retain valuable moisture for
your plants.
A garden is always a work in progress. I am constantly adding & sometimes removing plants in my
beds. I may find an unusual plant that is suppose to work in our area but you really don't know unless you
can plant it and watch it. Some will work & some will only last for short while but that is the fun part,
experimenting!
I have been in the landscape business for 40 plus years and my favorite thing to do is still work in my
own garden. It is relaxing (not so much when it is in the high nineties!) and therapeutic. So be creative,
find some plants you like and that work in your locale and just have some fun experimenting and
amaze yourself when it is full bloom and looking stunningly beautiful.